Rainier Arms Firearms Academy is Kansas' only Sig Sauer Elite Dealer, and deservedly so. The massive selection of in store Sig Sauer products is second to none. Often even having the MCX and MPX lines of rifles and pistols on the wall.. We even have a Silencer Shop Kiosk provided to us by Sig so we can streamline the purchase of their suppressor line. And having a range membership can give you access to exclusive discounts. 
Many of us have begun choosing a Sig Sauer handgun lately. More specifically, the P320. The removable fire control module makes this firearm incredibly customizable. You could make a competition gun out of your EDC gun, with just a few simple part swaps. My P320 is much different than my coworkers', who are also much different than me. I am an average guy, and cannot feasibly conceal a full size handgun. My defensive linebacker of a buddy could conceal a subgun if he was still rockin' FUBU pants. So his duty pistol and his concealed handgun are one in the same.  I like this concept for the ability to stay consistent. 
The take down is much easier than most other striker fired pistols. Simply lock the firearm to the rear, move the takedown lever into the proper position, then release the slide. No pulling of the trigger required. No awkward half-cocks. The removable fire control unit makes accessing the trigger for maintenance even easier. Pull out that takedown lever and you can slide your FCU out and get in for a deeper cleaning, and easy part swaps. 
The US Military also adopted this firearm recently, with the name M17 (military supply logistics am I right?)  replacing the Beretta M9 (my other favorite handgun. It was a hard transition for me) and as we know, that military contract money can lead to some cool new stuff. Their model includes a manual safety, as was required by military contracts. There are civilian models of the P320 that have a manual safety if that is a feature you are looking for. It also comes in a cool Flat Dark Earth akin colorway. The M17 is a full size duty gun, while the M18 is a compact version, more comparable to a Glock 19. 
The aftermarket for this firearm have already taken off, sights, triggers springs and slides.. Oh my.. Even the grip module.  If you need to order gloves online, fear not, we can find the right grip for you! Most of the grip modules I have seen have included a rail segment below so you can attach a light, or a laser. And for the heart of your gun, the Barrel, you can take a shorter 3.6 inch barrel for EDC, 4.6 on your duty gun, and even 5 inch plus for competition guns. The possibilities with this platform are endless.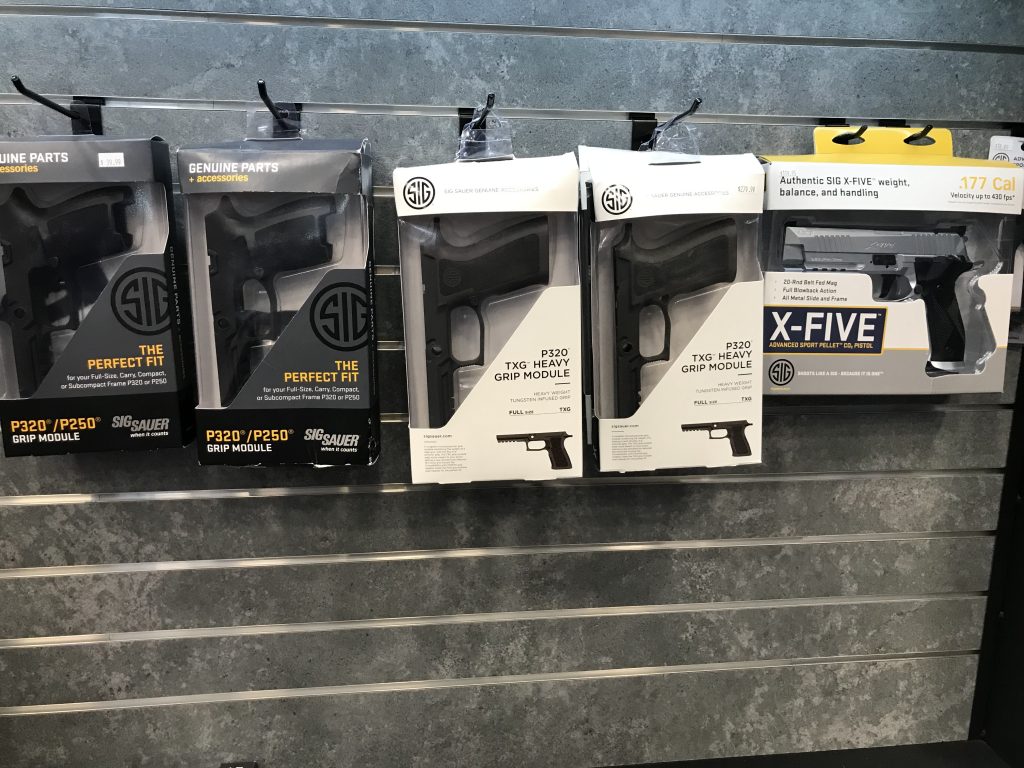 If you haven't been sold on a P320 yet, come on in and visit us at Rainier Arms Firearms Academy and check out our fleet of rental handguns. Including a few different P320 models. We can't wait to see you here!