FNH USA FNX-45 TACTICAL .45ACP PISTOL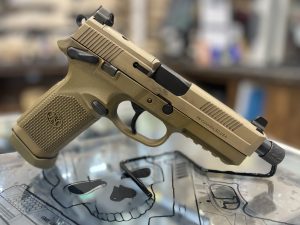 Improving on the FNP™-45 Tactical, developed for the U.S. Joint Combat Pistol Program, the FNX™-45 Tactical FDE was born and bred for battle. Like its legendary FN forefathers, this combat handgun was designed to not only survive the battlefield, but to emerge victorious. It is the latest in technological advancements in handgun engineering, offering .45 ACP performance and a host of unique features that no other handgun can match. Its 15-round magazine is precisely engineered to take a dive to the prone position and naturally roll up toward the target. The checkered polymer frame has a low-bore axis for reduced felt recoil, enhanced operator control, and a grip angle that provides unmatched natural point of aim.
Specifications:
CALIBER: .45 ACP
OPERATION: Double-action/Single-action
MAG CAPACITY: 15 Rd.
WEIGHT: 33.3 oz.
BARREL LENGTH: 5.3″
OVERALL LENGTH: 8.6″
TWIST RATE: 1:16″ RH
HEIGHT: 6.5″
WIDTH: 1.58″
TRIGGER PULL: 8.8 – 12.1 lb.
SIGHT RADIUS: 6.4″
Magazines: (2) 15RD
Features:
Raised 3-dot Trijicon green tritium night sights (standard) allow for one-handed operation
The width of the raised night sights perfectly size up the shoulder width of a target at 25 meters
Flat Dark Earth finish on slide and frame
SLIDE
Stainless steel construction
External extractor with loaded chamber indicator
Front and rear cocking serrations
Slide cut and threaded for optional electronic red-dot sight (not included)
Raised night sights for suppressor use
BARREL
Cold hammer-forged stainless steel
Polished chamber and feed ramp
Threaded .578×28 tpi with thread protector
FRAME
Polymer construction with replaceable steel frame/slide rails
Four interchangeable backstraps with lanyard eyelets
MIL-STD-1913 accessory mounting rail
Serrated trigger guard
OPERATING CONTROLS
Fully-ambidextrous decocking/safety lever, slide stop lever, and magazine release
MAGAZINE
Polished nickel coated steel body
Low-friction follower
Polymer base pad
SIGHTS
Includes two mounting bases for optional red-dot electronic sights
Includes:
Two 15-round magazines with extended base pad
Fitted, soft Cordura® nylon case
Owner's manual
Four interchangeable backstraps
Locking device
Sight mounting kit with plates and screws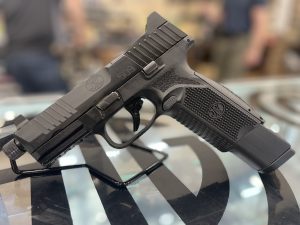 The FN 509® Tactical, an extension of the FN 509 family, is based on FN's submission pistol that the U.S. Army tested for its Modular Handgun Trials, but includes the significant improvements to the design that were implemented in the FN 509. The pistol features the company's patent-pending Low-Profile Optics Mounting System™ that enables the platform to accept more than ten commercially-available miniature red dot (MRD) optics that co-witness with the suppressor-height night sights and remain adaptable to future optics releases with no requirement of direct milling of the slide. The slide cap, for use when not shooting with an optic, has raised sight wings that protect iron sight alignment if the pistol is dropped or jostled, and provides a textured ramp for racking the slide against a belt loop, pant pocket or boot. An FN-signature 4.5-inch, cold hammer-forged, stainless-steel barrel with target crown, ½" x 28 threads that accept the bulk of 9mm suppressors available and thread cap with integrated O-ring to prevent loosening during use complete the top end. Lastly, the 24-round magazines, nearly identical in length to the pistol's slide, maximize ammunition capacity without impacting carry convenience.
Specifications:
Caliber: 9mm
Operation: Double-action
Capacity: 10 or 17/24 Rd.
Weight: 27.9 oz.
Barrel Length: 4.5″
Overall Length: 7.9″
Twist Rate: 1:10″ RH
Height: 5.75″
Width: 1.35″
Trigger Pull: 5.5 – 7.5 lb.
Sight Radius: 5.79″
Features:
Striker-fired autoloader
5.5 to 7.5 lbs. Trigger pull
FN Low Profile Optics Mounting System™
Threaded Barrel
Suppressor Height Night Sights
Slide:
FN Low Profile Optics Mounting System™
Sight Protecting Slide Cap
External extractor; loaded chamber indicator
Barrel:
Cold hammer-forged stainless steel
Recessed target crown
Polished chamber and feed ramp
1/2" x 28 threaded Barrel
O-Ring retention thread cap
Frame:
Polymer construction with replaceable steel frame/slide rails
Enhanced grip texture which enables faster follow-up shots in all conditions
Interchangeable backstraps
MIL-STD-1913 accessory mounting rail
Operating Controls:
Fully ambidextrous slide stop lever and magazine release
Magazine:
High visibility, low-friction follower; polymer base with black finish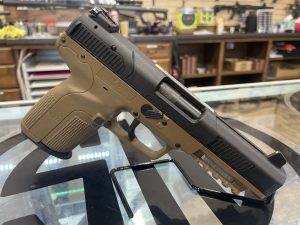 The FN Five-seveN® pistol was developed in the early 1990s and features a cold hammer-forged barrel that is chrome-lined for extended service life. The polymer-framed FN Five-seveN® offers single-action operation, low felt recoil, 20-round magazine capacity, and is equipped with an ambidextrous, forward-mounted manual safety, and an accessory rail that accepts tactical lights and lasers.
PRIMARY FEATURES
Adjustable 3-dot sights (standard)
Adjustable rear combat sight
Low recoil
High-energy projectiles
SLIDE
One-piece machined steel slide
Polymer cover
Front and rear cocking serrations
BARREL
Cold hammer-forged stainless steel
Chrome-lined chamber and bore
FRAME
Polymer construction
Checkered grip
MIL-STD-1913 accessory mounting rail
Serrated trigger guard
OPERATING CONTROLS
Fully ambidextrous safety lever
Reversible magazine release
MAGAZINE
Polymer body
Low-friction follower
Polymer base
SHIPS WITH
(2) 20-round Magazine
Owner's manual
Locking device
Lockable fitted hard case
SPECIFICATIONS:
CALIBER: 5.7x28mm
OPERATION: Single-action
MAG CAPACITY: 20 Rd.
WEIGHT: 21 oz. (without mag)
BARREL LENGTH: 4.8″
OVERALL LENGTH: 8.2″
TWIST RATE: 1:9″ RH
HEIGHT: 5.7″
WIDTH: 1.4″
TRIGGER PULL: 4.4 – 7.87 lb.
SIGHT RADIUS: 7.0″