Welcome to Rainier Arms Firearms Academy!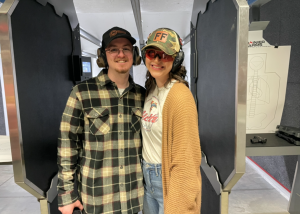 We thank you for taking a look at our 27,000sq ft state-of-the-art indoor facility. Our range can facilitate a multitude of people at any given time, so please never think we would be too busy to have you join us for some shooting. With 24 public shooting lanes divided into 3 firing bays at ranges of 25 yards, we ensure comfort and adequate space can be provided to the shooter when able. We also have 4 private lanes tucked away in our Private bay.
While coming into the Academy, you will head over to the Range Counter at the far end of the showroom floor and under the hanging sign "Check-In" a staff member will get you setup. Once there you will be greeted by one of our professional team members if you haven't already to be checked-in and he/she will ask "Have you ever shot here?" If the answer is yes, you'll know the next steps. If the answer is "No, I haven't." That's okay and we are excited to have you! You'll have to fill out our digital waivers on our iPads and the waiver will be good for a whole year. Upon completing the digital waiver, you will turn your attention to the tv monitor and watch a 3 minute safety video.
Click over here for the waiver to get this done ahead of time. Just let the staff know you will have to watch the safety video before going out on the range.
Note: Waivers will expire after a year, you will have to resign your waiver again to remain current.
SAFETY VIDEO
Shooting is limited to one round per second and no drawing from the holster is allowed unless qualified and certified by one of our instructors. To qualify for an Enhance Firing Qualification, please reference our training calendar and get signed up.
The Academy has over a 100 different firearms to choose from for rent! Our selection is amongst the best collection Kansas has ever seen. From Fully-Automatic Machine guns, to Automatic Sub-Machine guns, Historic classics, rifles, shotguns, to modern day carry options. We provide a wide array of options for the customer to enjoy.
Enjoy the privilege and test out a model and compare & contrast before you buy. Then go purchase a similar model from our showroom selection.
Our arsenal is constantly changing as we find new models to supplement our high demand and expectations to keep our customers engaged. We have a fitting firearm for anyone incase you do not own one yet. Our staff is dedicated and experienced to walk you through the vast options of rifles, shotguns, and handguns.
Note: In accordance to Federal Law, Handguns are not permitted to be used or rented by a minor. However, 18 year old's are able to rent rifles and shotguns. Also, minors are to be accompanied by a parent or guardian in order to use our range. 
You do NOT have to be a member to use our range. You can shoot any caliber from .22LR to .50Cal BMG.
Up to three people are allowed per lane.
Note: In order to preserve our range, we will inspect any ammunition brought by our customers. Armor piercing rounds and tracer rounds are prohibited!
What if I do not have my own hearing and eye protection? No need to worry, the Academy will provide you with noise canceling hearing protection along with quality clean eye protection. Each unit is cleaned thoroughly before use. If you enjoy just regular ear plugs, we have those also. To use our high-tech ear and eye pro, the cost is FREE! Just ensure you return them upon completion of the range.
If you enjoy our matching eye protection and hearing protection we sell them at our Range Counter as well.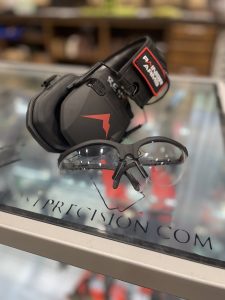 What you can expect to pay.
Range Costs:
$20.00 for the lane rental. Time is not limited to the shooter or shooters unless a waiting list has been established from the Range Manager.
$15.00 for every additional person up to three people on a lane.
$1.50 for targets are available upon request.
Rental Costs:
$10.00 Flat fee will unlock Semi-automatic rifles and pistols.
$75.00 for unsuppressed Full Autos. Comes with One loaded magazine.
$80.00 for suppressed Full Autos. Comes with One loaded magazine.
Note: All rental firearms must shoot range ammunition only, no exceptions.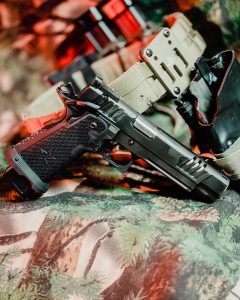 Ammo is available for many calibers. 22LR, 9mm, .357 .40, .45, .223, 5.56, 300BLK, .308, 7.62×39 etc.. Please call the range before arrival if you want to see if we have the caliber for you.