Full Auto RAINIER ARMS RUC 5.56 NATO DI RIFLE – 16″
Semi Auto RAINIER ARMS RUC 5.56 NATO DI RIFLE – 16″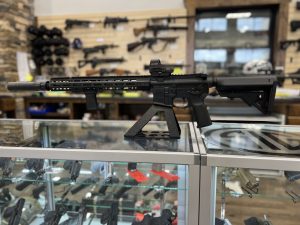 Introducing the RUC DI Rifle! This is the next step in our efforts to bring the highest quality rifles to the market that we can while offering the best value as well. This rifle shows its direct lineage to its predecessors with its return back to utilizing a direct impingement operating system on our new and improved Rainier Arms Select barrel. The RUC DI Rifle also utilizes our Urban Combat Rail to provide shooters with a rock solid handguard that can take any abuse you can throw at it. The rifle is finished off with the Avalanche ANC charging handle and our new Rainier Arms FHV2 flash hider.
MODIFICATIONS:
HOLOSUN HE510C-GR ELITE GREEN DOT
SIG 551 SWAT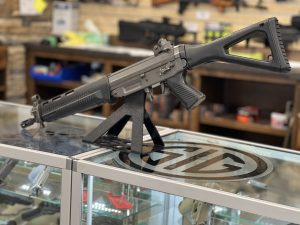 The SIG 550 series of assault rifles came about in the late 1970's. At that time the Swiss Army began to search for a new, smaller caliber rifle, in order to replace the old, full-power 7.5mm Stgw.57 (SIG510) automatic rifle.
Further testing proved the superiority of the SIG SG-541 rifle over its W+F rival. In 1983, the Swiss Army officially adopted the SIG SG-541 as the Sturmgewehr-90, or Stgw.90. Due to financial constraints production only began in 1986. Currently, the Stgw.90 is the standard rifle of the Swiss armed services.
The Swiss Army took its last deliveries of the Stgw.90 in the mid-1990's, but these rifles are still offered for export by the international SIG SAUER company, (until 2007 known as "SIGARMS"). They are also available in the civilian market in semi-automatic only versions. In export form this rifle is known as the SIG SG-550.
"Carbine" and subcompact "Commando" assault rifle versions are available in the form of SIG SG-551 and SIG SG-552, respectively. Civilian versions of the SIG SG-550 and 551 are known as the Stgw.90 PE in Switzerland or SIG 550-SP and 551-SP when sold for export. The SIG-550 is often referred to as the finest 5.56 mm rifle ever made. It is also, not surprisingly, quite expensive.
Three Round Burst – Griffin Armament – CAR-15