The Academy enjoys having a diverse amount of guns to share the rich history and hold the tools the helped shape our country.
Class III/NFA Fully Auto Thompson M1A1 SMG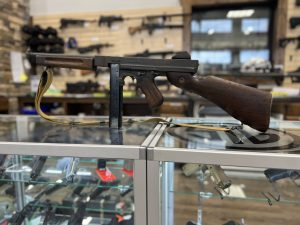 This is a very nice example of a WW II production M1A1 Thompson Submachine Gun, manufactured by the Auto Ordnance Corp. in Bridgeport, Connecticut. The M1A1 was introduced in April 1942 as a war-expedient/simplified version of the M1928 Thompson Submachine Gun. This rare SMG is correctly stamped on top of the rear of the receiver with "US PROPERTY". The war-expedient features included the elimination of the barrel cooling fins, Cutt's compensator, adjustable rear sight and removable buttstock. They also employed a side-mounted cocking handle and a fixed firing pin with a slightly longer bolt which allowed the weapon to be manufactured on an easier and more cost effective basis.
NOTE: This weapon is a restricted, National Firearms Act (NFA) Class 3, Fully Automatic Weapon, that is registered with the Bureau of Alcohol, Tobacco, Firearms and Explosives (BATFE) under the provisions of 18 U.S.C. Chapter 44 and 27 CFR part 478. This weapon is currently registered as being "LIMITED TO USE AS A SALES SAMPLE (Pre-86)" and as such can only be purchased by an FFL, with a Class 2 or Class 3 SOT License.
Class III Sten Gun Full Auto 9mm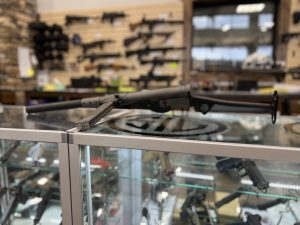 The Sten is a select fire, blowback-operated weapon and loads its magazine on the left, rather than the bottom, as is the usual configuration. The Sten emerged while Britain was engaged in the Battle of Britain, facing invasion by Germany.