STACCATO 2011 P DPO 9MM PISTOL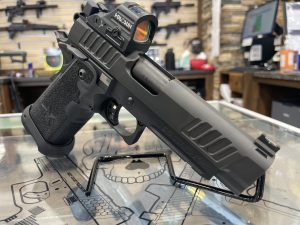 The Staccato P is approved for duty by more than 325 law enforcement agencies and carried by elite units like the Texas Rangers and the US Marshals Special Operations Group, as well as thousands of officers across the country. The Staccato P has never failed a law enforcement department evaluation, including drop, accuracy, reliability, and endurance testing. Civilians serious about protection and defense know that the Staccato P is the option trusted by those who put their lives on the line every day.
The Staccato P checks all the boxes as a reliable weapon, on or off duty. Famous for its reliability and accuracy, the Staccato P can be trusted in all situations so you can focus on the job at hand.
The 2011® platform is designed with care, precision-engineered, and handcrafted with you and your experience in mind. Cleaning is easier than you think. The Dawson Precision® tool-less guide rod will allow you to field strip your Staccato P anywhere, anytime without tools, pins or clips to disassemble.
Features:
Hight Safety Standards: We can't stress safety enough. Our 2011® platform models come equipped with both a grip safety and an ambidextrous external thumb safety that's designed to give you peace of mind.
Blended Polymer Grip: Their grip's ergonomics allows for comfortable handling, resulting in a natural presentation of the pistol. Combined with our single-action, straight pull-back trigger you can always stay focused on your target.
Specifications:
Caliber: 9mm
Barrel: 4.4 Inch Bull Barrel
Optic-Ready: Fiber Optic Front, Tactical Dawson Precision® Optic System "Pat. Pend." Rear
Trigger: 4lbs With Ambi Safety Levers
Length: 8.0
Grip Width: 1.3
Height: 5.5
Width At Safeties: 1.49
Weight: 33oz (Empty – No Mag)
Magazines: 2x 17-Round & 1x 20-Round
Modifications:
HOLOSUN HE407C-GR-X2 GREEN DOT REFLEX SIGHT – 2 MOA
STACCATO 2011 XC DPO 9MM PISTOL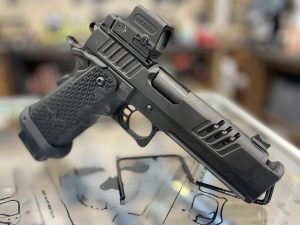 The Staccato XC chambered in 9mm is a high quality, hammer fired, optic ready, 2011 pistol designed for competition, duty, and defensive carry. This hand crafted single action firearm was designed for serious use under demanding conditions for professionals and those who demand the very best for personal protection. The 5 inch compensated Bull Barrel uses Staccato's FlaTec™, integrated compensated barrel and front sight with a DLC coated black slide and deep front and rear serrations. The XC features the Dawson Universal Optic system for co-witness compatibility with the best, most popular pistol red dots on the market. This Staccato (formerly STI) pistol is equipped with a durable, bright, fiber optic front sight and a tactical rack, black serrated rear. The billet steel framed Staccato XC matches a Tactical Advantage Magwell using high capacity double stack magazines to an exquisite 2.5 lb 1911 style trigger, grip and thumb safety to deliver what they call "the worlds best shooting carry gun".
Specifications:
Model: XC
Caliber: 9mm
Barrel: 5″FlaTec™, integrated compensated barrel and front sight
Magazines: (2) 17, (1) 20 round mag
Finish: Diamond like Carbon, Black
Trigger: 2.5 lbs w/ Ambi Safety Levers
Front Sight: Dawson Precision Fiber Optic
Rear Sight: Tactical Dawson Universal Optic System
Recoil System: Dawson 5.0 Adaptive Tool-Less Recoil System
Grip: 2011 G2, Full Length, Black w/ Tactical Advantage Magwell
Frame: Billet Steel w/ Accessory rail
Weight: 39 oz w/ DPP/Empty – No Mag
More Information:
Product Name: Staccato XC 9mm 5″ Barrel 17+1/20+1 11-1400-000100
Brand: STACCATO
Caliber: 9mm
Action: Single Action Only
(2) 17, (1) 20 round magazines and soft pistol case included.
Modifications:
HOLOSUN HE509T ELITE RED DOT SIGHT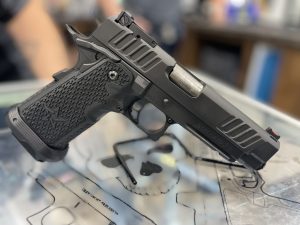 Approved for duty by over 280 law enforcement agencies across the country, the Staccato P is chosen for its proven durability, reliability, accuracy, and performance. Protect yourself and your family with the gun trusted by America's heroes.
Specifications:
Barrel – 4.4 inch Bull Barrel
Finish – Diamond Like Carbon, Black
Mags Included – (2) 17rd & (1) 20rd Magazines
Trigger – 4 lbs with Ambi Safety Levers
Front – Dawson Precision Fiber Optic
Rear – T.A.S. II
Recoil System – Dawson 4.4 Adaptive Tool-less Recoil System
Grip – 2011® G2, Full Length, Black
Frame – Billet Steel Frame w/ Accessory Rail
Caliber – 9mm
Weight: 33 oz
STACCATO 2011 C2 DPO TACTICAL 9MM PISTOL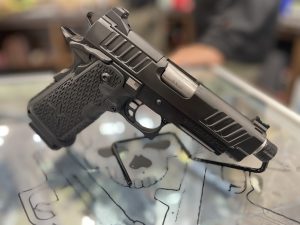 When you need it, the Staccato C2 is equipped with a double-stack magazine. Compact and lightweight, the C2 is durable, reliable, insanely accurate, and easy to shoot well.
The Staccato C2 DPO Tactical ships with a front sight which, when used in conjunction with the appropriate Staccato 2011® optic mounting plate (sold separately), is designed to co-witness with industry leading full-sized red dot optics such as the Leupold Delta Point Pro, Holosun 508/509, Trijicon RMR, Sig Sauer Romeo One, and others. Optics and mounting plates are sold separately.
Specifications:
BARREL: 3.9 INCH BULL BARREL
FINISH: DIAMOND LIKE CARBON, BLACK
MAGAZINES: 3X 16-ROUND MAGAZINES
TRIGGER: 4 LBS WITH AMBI SAFETY LEVERS
FRONT: FIBER OPTIC
REAR: DAWSON® UNIVERSAL OPTIC SYSTEM
RECOIL SYSTEM: 3.9 RECOIL MASTER LIGHT
GRIP: 2011® G2, OFFICER LENGTH, BLACK
FRAME: LIGHTWEIGHT ALLOY FRAME W/ ACCESSORY RAIL
DIMENSIONS LENGTH 7.5 X GRIP WIDTH 1.3 X HEIGHT 5.5
CALIBER: 9MM
WEIGHT 25.7OZ W/O OPTIC / EMPTY – NO MAG
Features:

With more capacity when you need it, the Staccato C2 is equipped with a double-stack magazine.
Same lightweight, compact design of the Staccato C – Dawson® Universal Optic System
The perfect marriage of capacity, capability, and reliable performance.
STACCATO 2011 C DPO 9MM PISTOL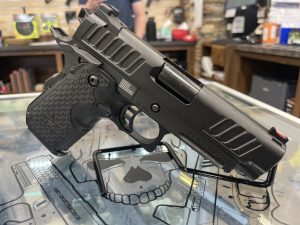 The Staccato C DPO system is designed with the concealed-carry user in mind.  Lightweight, compact, and fitted with optic-ready capability.  The everyday carry gun is the most important pistol you will buy.
The Staccato C DPO is finished with a flush fit 11-degree crown barrel.
Specifications:
Barrel: 3.9″ Bull Barrel
Finished: Diamond Like Carbon – Black
Magazines: (3) Single Stack Officer with Base Pads
Trigger: 4lbs w/ Ambi Safety Levers
Sights: Dawson Precision Perfect Impact Sights
Front: Fiber Optics
Rear: Carry Dawson Universal Optic System
Recoil System: 3.9 Recoil Master Light
Grip: 2011 Single Stack Carry Grip
Frame: Lightweight Alloy Frame w/ Accessory Rail
Caliber: 9mm
Dimensions: Length (7.44″) x Grip Width (1.07″) x Height (5.5″) – Width at Safeties (1.49″)
Weight: 26.6 oz Empty