Rainier Arms Firearms Academy Services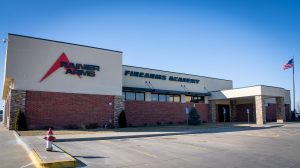 The Academy is more than just a gun store, it is a place for our community to gather and get better as responsible armed citizens, to make friends and forge lasting relationships. We understand the importance of becoming apart of the community in more ways than one. Rainier Arms is always looking at unique ways to giveback. Whether it is supporting a youth sports team pay for travel costs by supporting an auction item to donating funds to help an organization.
We support many causes and will always try to answer the call of our communities needs.
Rainier Arms Firearms Academy is a proud member of the Wichita Regional Chamber of Commerce and a robust teammate to supporting businesses. Please feel free to reach out to us if you would like to collaborate together. We have hosted many corporate team building events to corporate networking events at the Academy.
Community Outreach is crucial, if you would like to inquire on how we can assist you, please reach out to our Marketing Coordinator (Phillip Lim) – Phillip.Lim@Rainierarms.com