Growing up in Kansas it is thought that hunting and firearms are something that is second nature like apple pie and ice cream. While that is true for most kids growing up in small towns this was not the case for me. Sure, I had attended hunter education class.  I remember being really excited that I was going to be able to join my uncles when they went hunting for duck, but after one rather uneventful duck hunt. That was it! My parents didn't own any land, we weren't farmers so unless a coordinated effort took place between my uncles and my father it just wasn't going to be a possibility. So that was it, I stored my shotgun at my uncle's house and took up golf.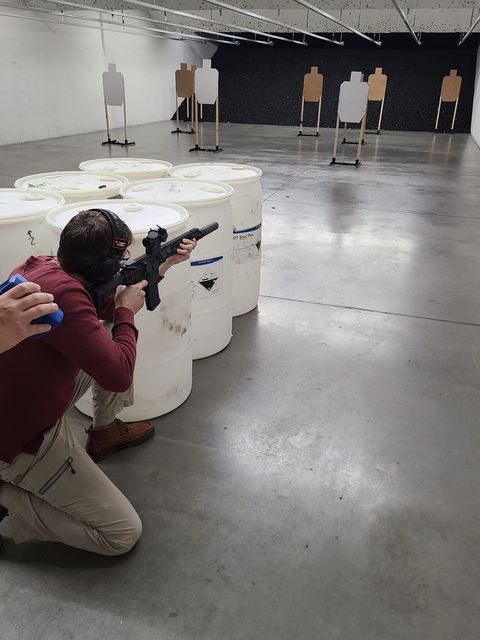 Flash-forward almost 17 years and I hadn't touched a gun, maybe a couple times I was in the same room as one, but surely never fired one. This was all about to change. After moving into a house on my own. I felt it was necessary to have some sort of protection. I didn't live in a bad neighborhood, but I didn't want to feel as if I had no options if something were to happen. That's when I decided to visit my local range and participate in a Tactical Training Course at Rainier Arms.
There is a certain anxiety that sets in when I am around firearms. An absolute awareness that can leave me short of breath. I am in a complete alert state because I know the consequences. It's a serious matter and it should be treated as such. Multiply that 3x when you know your ignorance of firearms is about to be on full display in front of a class of professional tactical trainers. In my head I was going to have to endure a little bit of light poking fun at me from my classmates and instructors.
"Dude you stacked three of those shots, good shooting!"
-Rainier Instructor
NONE of this was true. Immediately after walking in I was welcomed and found myself around a diverse group of classmates all with different reasons for being there. I could tell that the next hour and a half or so was going to be fun and I was bound to leave with a better understanding of firearms.
Predictably, the lead instructor gathered us all together and we went through a detailed safety briefing before we got started. Although I knew the general rules of gun safety, it was really nice to have a detailed refresher. Always keep your finger off the trigger until you are ready to fire. Always think about the safest place to point your firearm when you are not actively shooting. And the most important, never point the gun at something you are not willing to shoot. After this we then got a rundown of the mechanics of our gun and how to operate it. We went over clearing the chamber and what to do when your gun gets jammed.
At this point our class was buzzing with energy as we knew we were about to get started, and our lead instructor Andy let us know what our first drill would be. Ten rounds in ten seconds. This drill was to get everybody loosened up and comfortable with the pace of the class. There were classmates there with all different skill levels, and never once did anyone get chastised or made fun of. This was a friendly atmosphere, and everyone was there to encourage and cheer on. The goal was simple get as many rounds as you can in the Alpha area. To my surprise for my first drill I nailed it. My instructor turned to me and said with a big smile, "Dude you stacked three of those shots, good shooting!" I turned back around to my other classmates and they all gave me a thumbs up.
As the night went on we went through other drills where we added movement and instances where we needed to reload. I was having a blast. I knew I was going to have fun but I didn't think I was going to be going through my calendar to pick out the next time I would be attending class. I was sure this was going to be a one and done thing, but I was ready to make this a full on hobby.
After class was over I left Rainier arms with new friends and a new sense of confidence that I was comfortable with my firearm, and knew that after a few more classes if God forbid I ever needed to use my weapon I would know exactly what to do. I couldn't recommend classes at Rainier Arms enough. No matter what skill level, or how nervous you are. If you go you will not regret it!